Dear Doctor Veranit,

Thanks so much for the wonderfull smileI get throw. You are a real dentist.

Enjoy your live,
Bernard Brogli,
Switzerland
Jag ar frau brenge ock yar under I recka operenat intyra titansknevar. I ovre taken Detta yar blivit jaffebra ock daihil utau smarta. Jag kan verkligen rekomendera deu har faud. Lakaren ock priset ar aven def dverkomlikt aeot i svenge.
Britt-Marie& Bo Nelson,
Sweden
Dr.Veranit you are a miracle worker..
..
For myself + others. I have never felt so relaxed at a dentist. I looked forward to the visits + your lovely smiles.-one+all. I truely trusted in your gentle expertise and professional gift... I feel reborn happy + can't take the smile of my face. There is a quiet confidence birthed in me that with faith all things are possible.

Thank you from the bottom of my heart and thanks to all yur staff for their caring support. I will recommend your services to all I meet. That's a lot so people to be busy !!

Love & Blessings
Cheryl Gwuynn
Dear Dr.Nid & Staff,
What can I say? I feel I can now smile and have beautiful white teeth. Our friends Trevor and Sharon told us about you. You are a true professional. You are honest in your advice and I am greatful for this. I don't usually like going to the Dentist but you have certainly changed my opinion. Now I will enjoy eating in style.
Thank you very much,
Linda & Chester
New Zealand
We will be passing on your business card to other New Zealanders.
Hi Dr.Veranit,
Thank you for being patient + kind and doing such great work on my teeth. You really took a lot of fear out of the process by explaining what was happening.
I Love my new teeth.
Thank you so much.
Claire
,
Melbourne,
Australia
Dr.Veranit
Great work the difference between when I walked in an when the work was completed is amazing. I would highly recommend anyone requiring dental work to contact me. I will give you a reference at any time and will recommend you to all my friend who require dental treatment.
Regards & Thankyou
Craig Hajwan
Australia
I have had dental veneers, ceramic crown, dental whitening and also and implant done by Dr.Veranit. This work was done over a number of months and several trips to Phuket. Not only have I saved many thousands of dollars, I have found the work to be of a higher standard than treatment I have recieved in Australia. Several dentists who have seen his work have said it is "top work".
As a business executive I ahve no trouble recommending his work to anyone, one of my friends has already come to Dr.Veranit from my recommendation. His friendlisness and personal touch are also much appreciated.
Well done and keep up the good work!!!
Damian Lewis
,
Brisbane,
Australia
September 2005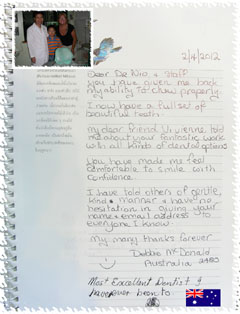 Click here to enlarge
Dear Dr.Nid&Staff,

You have given me back my ability to chew properly. I now have a full set of beautiful teeth. My dear friend Vivienne told me about your fantastic work with all kinds of dental options. You have made me feel comfortable to smile with confidence.
I have told others of gentle, kind manner and have no hesitation in giving your name and email address to everyone I know.
My many thanks forever

Debbie McDonald,
Australia 2480 Australia

Most excellence dentist I have ever been to.
April 2,2012
Dear Dr.Nid & Staff,

This has been truly an amazing "painfree" experience. I now have a beautiful smile, such white teeth !. I can chew again too. I can't wait a big steak.
Your service is best and very professional. I will be recommending your services to all my friends and family. I wish you all the best for now and the future.

Kind Regards,
Debbie from NZ New Zealand


May 4,2012
Thank you Dr.Veranit Haycharoensri.

I don't feel that I have to cover my mouth anymore when I laugh or smile as I am comfortable with my smile.
Very much appreciated.
Will be back to see you in a year or two.

Denise McQuade,
Pearth, Australia
Dr.Veranit did on excellent job for myself and my wife Annette. He showed very good skill and the treatment was excellent. I will pass on to my friends. City Park Dental Clinic is the place to have your teeth treated.

Many Thanks,
Derek & Annette Kear
Australia
Thank you Veranit so much for being so gentle. John and I are so pleased with our teeth. We look like movie stars now !! You are very special, so professional and very friendly.
Our stay in Phuket with be filled with happy memories and you especially have made our trip wonderful. We will recommend you to all we meet.
Thank you, God bless you always and your wonderful staff.
Love,
Diann & John Richards
Australia
6/3/06
Dear Dr.Varanit
It has been a long journey both actually and metaphorically to get 14 crowns and 6 veneers completed. I spent 6 hrs in the chair on Monday, 3 hrs on Tuesday and then had temporary teeth for 5 days. I must admit. I sometimes had a crisis of confidence at the sake of the job and the degree of trust I had - you.
Today I can say I am delighted. My teeth look wonderful and work beautifully. You have been extremely professional, kind, gently and patient. I am greatful to you and Kay. Thank you for the tea, water and internet and musicand TV.
Regards,
Kathleen
Australia
Dear Dr.,
Thank you for my 2 lovely crowns. You are very kind. I am very happy with your treatment.
Best Wishes,
Kathryn Davis
Australia
Dr.Veranits did a excellent job on my teeth, I was too embarressed to smile before as my teeth were yellow and crooked. Now I'll be smiling all the time. it was only 2 visits with a outstanding result.

Thank you,
Kelly Marriage,
Cairns,Qld,Australia
Thank you Dr.Nid,

Your dental work and mannerism are great. I have enjoyed ever visit and stoked at the end result. It's great to be able to smile with confidence again. We will be back and recommending you to all our friends. Thanks to your lovely assistant as well. As always your friends

Juie & Kevin
Gold Coast
Australia
August 1,2013
Dear Dr.Nit & Staff,

We came to Phuket for teeth work as you were recommended by friends. They were right you and your staff are very professional , friendly and did a fantastic job on both of us.
From Larry,
I am extremely happy. I now have teeth where I haven't had for 30 years. I had a lot of work done. My teeth were very bad. 10 hours in the dentist chair well worth while I can now happily smile and chew on a big steak. Everyone here is fantastic. Thanks so much.
From Bev,
Great work and crowns. I am so pleased excellence job thank. We will both highly recommend to friends etc. We got a holiday and our teeth fixed for less than the price of getting them fixed in Australia and more professional.
Thankyou all so much.

Bev & Larry Turner
Kangaroo Island,
South Australia ,
Australia

June 10,2011
Dear Dr.Varanit,

I'm impressed with the modern tech in workmanship and equipment. A nice and friendly atmosfair.

Thanks for this thing.
Lars Berglund
Sweden
26/02/06
Dr.Veranit,

We are very pleased with the work that you have performed on our teeth. We will certainly recommend you to anyone that wishes to have teeth work done.
We hve really enjoyed our stayiing in Phuket and look forward to returning in a year or so.
Very warm friendly people in Thailand!! We hve loved it.

Les & Kate Lamont
Hervey Bay, Queensland, Australia
I found Dr.Veranit(Nid) to be very honest, if you have any concerns, of being over serviced, you need not worry. If you can find an honest dentist in your own country, get an evaluation first.
I am extremely satified with the work carried out on my teeth. My teeth have never looked or felt better. It is gold card service and bronze card cost. Why pay for your dentists holiday when you can have your own holiday and your teeth perfected ?
Brilliant !! I highly recommend Nid.

Lew Franich,
Albany, Western Australia Australia

10th August 2007
2/16/06
Dear Dr.Veranit,

Do you realise that this is a dream come true ? The idea of coming back to Thailand started after my first visit 3 years ago. I needed to have more dental work done and I decided to plan a family vacation and locate a dentist that I could have confidence in on the internet. I selected Dr.Veranit's practice because he had himself designed a fantastic web site,totally informative and very professional. He corresponded the past two years, increasing my confidence in him. I am ecstatic with the work done and would highly recommend Dr.Veranit to all.

Sincerely,
Linda Tartaglia
U.S.A

Dear Dr.Veranit,
We come here with mixed feelings not knowing you. We had chosen you from the webpage and reading through the references. We make the perfect choice.
Louis and myself needed extensive work done, crowns, root treatment, extractions and new denture.
Congratulation for your excellent work + treatment.
We both leave today with a "big smile" and are very happy that we found you.
We will be back and will be recommend you to anyone.
Thank you to you and your staff, we will be back !
With kind regards,
Louis & Margrit Schneider
Eltham (Melbourne) 3095, Australia
Dear Dr.Veranit,
What a wonderful gift you have of make dental procedures. Painless, quick, efficient + very professional. I am so happy. I can smile + I will be smiling a lot more now ! I will return + highly recommend you.
You are gentleman.
Kindest Regards,
Lucinda Bach
,
Qld.,
Australia
Dear Dr.Veranit & Staffs,
This is the first time in Phuket to fix my teeth. I have a great experience !! I had a bad set of teeth. Now I have a beautiful smile !
All the staffs were friendly and very helpful. Thank you so much for all the hard work done on my teeth.
I will recomend all my friends for a fantastic job. I will come again soon.
Thank you very much
I.Lukman
Australia
27/5/2011
Dear Dr.Veranit,
I am over the moon with my new teeth. My teeth have never looked better. I would not have thought it possible.
Dr.Veranit is very professional and friendly. I will recommend him to everybody who needs a great dentist.
Betty Fox,
Qld.,
Australia
Thank you for such gentle professional treatment. We will be the centre of attention at Burleigh Bowls Club.
Very Very pleased.
L. Fox
Will reccomend to all our friends.
I have treated from Dentist to Dentist to find someone to deal with my sensitive teeth.
I have never had the privilege before to have someone with such expertice and knowledge work on my teeth and explain what is happening. The warmth that has been shown to me is like no other and I highly recomend.
I would fly 2 times around the world to have my teeth worked on by Dr.Veranit I can only express my gratitude by these words and even then my words do not do this gentleman justice!
Thank you Dr.Veranit
This will be a visit to truly remember!
I wish you the best & many warm wishes,
Paddy Knieling
,
Australia
Dear Dr.Veranit,
Thank you for doing such a good job on my teeth. You are the Best Dentist I've been to in my life. I am happy to show my teeth. And now I have stopped smoking too !
Paul Noosa
,
Australia
7/06/08
Thank you Dr.Veranit
Therese & Peter Raschle we both have expirienced your quality workmanship and can only recomend you to our friends.
We will come again from Australia one day.
Peter & Therese
Dear Dr.Veranit,
I thank you so very much for transforming my smile. You did work for me on every tooth with a combination of fillings, crowns, bridge. I am very happy with the result. It is hard to believe it is my teeth when I look in the mirror.
Your work was very gentle, precision. Always backed by a big smile and happy person. I will be recommending your work to everyone.
Sharyn Cook
,
Queensland,
Australia
10/02/2006
Dear Doctor,

You have been great and very professional. Very impress the way as you are using the new Technology. ........
Stephan&Luci
Italy
Dear Dr Nid

Sue and I would like to thank you for the magnificent work you did on our teeth and smile. Your professionalism and that of your staff is highly recommended and appreciated. I have given your contact details to some of my friends and family who intend visiting Thailand in the near future. Once again thank you see you next year.
Kind Regards
Sue & Steve Wright
Central Coast
New South Wales, Australia


sjwright53@optusnet.com.au
May 26,2011
I found Dr.Varanit on the net. I am delighted. I chose Dr.Varanit to do my bridge work. The result is excellent - better than I imagined.
Dr.Varanit is gentle and caring. I have no hesitation in recommending Dr.Varanit what so ever.
Susan Smith
(Australian),Australia
Thank you so much. It was worth making the trip!
My time here has been indicated by the wonderful treatment and kindness. Shown to use by the doctor and his staff. if you are considering coming to Phuket for treatment., please do. So you will not be disappointed, the hospitality and professionalism is second to none. I wish all concerned every sucess and good health in the future.
Sincerest regards,
Warren Somerville
,
Brirnsdale Victoria,
Australia
Click here to enlarge
Dear Dr.Veranit,

Thanks for taking care of my dental issues while holiday in Phuket. I will surely recomend you to any of my friends back home.
You have done a great jobs and make me feel comfortable in your professional way.
All the best and see again with my dental issues.

Wolfgang,
11-02-06